December was for deadlines and dead lines (actual temporary power outage) but also full of delusions of grandeur as far as a holiday goes. Thankfully I have passed this hurdle (exams + holidaze) three times before and honestly I'm just happy that some people in the past fought for my right to "have a break" and I don't have to labour relentlessly to survive in an urban environment. 
Tech probs. 
Once I got passed exams, working on this EP came as a nice creative relief from the academic agony of tests and essays. December 1st I moved into a new apartment with a whole extra room for my studio. Once I moved into this freshly painted, looking fresh place, I tried turning on the brand new thermostat for the brand new baseboard in my studio room only to find it unfunctioning. One room out of commission, door closed to keep out freezing temps. My studio remained packed for the first two weeks of December until I had time to set it up in the (warmer) living room. I also had to purchase a new midi keyboard/controller since my m-audio controller, $25 purchase from a thrift store had started to malfunction (perfectly timed with end of term jazz composition assignments...) My partner found me a novation keyboard with usb on facebook marketplace and we picked it up the same night.
Spread sheets. 
Since then I have been going through each Logic session of the tracks I chose for the EP and writing down the entire track list (instrumentation) and noting which tracks I want to keep as-is and what needs to be rerecorded. A fellow colleague of my capstone class showed us their master spread sheet of their compositions which I thought was a great idea so I got right too it. The result was very satisfying and brought me the clarity I needed to be able to proceed with the project.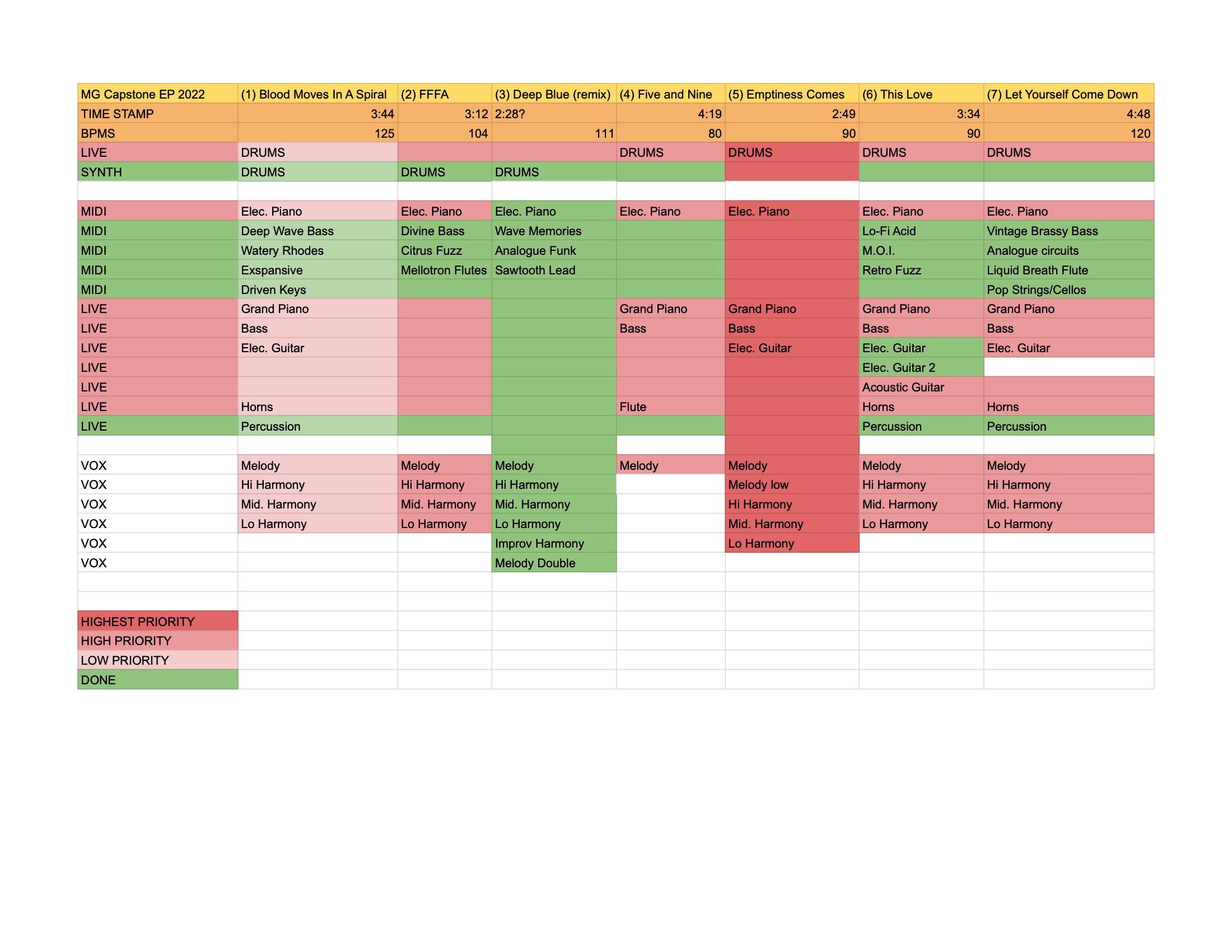 New year projections.
As my studio is still set up temporarily in the living room while we wait for the landlord to resolve the heating issues, I still plan to track some guitars, bass and keys there with direct inputs. Meanwhile I am converting a closet into a vocal booth (with a large duvet) so I can be tracking some vocals as well. I will see how this goes but am looking into other possible rooms for this as I can't predict the amount of aux. noise coming from upstairs neighbours, the road next to our house and house appliance hums.  The only other major players at this stage are my drummer friend Nathan and my multi-instrumentalist friend Robyn who I will booking time with this month to do tracking with me. If all goes well I could have most or all of my tracking done!
Unknowns.
I don't know who will be mixing or mastering this album yet. I will be making some inquiries about this, spreading a wider net to some contacts in Halifax who might help. I should know this by the end of January so I can figure out how much that might cost. 
This is all for now, I will be posting later this month for my January entry! Peace!
xoMG