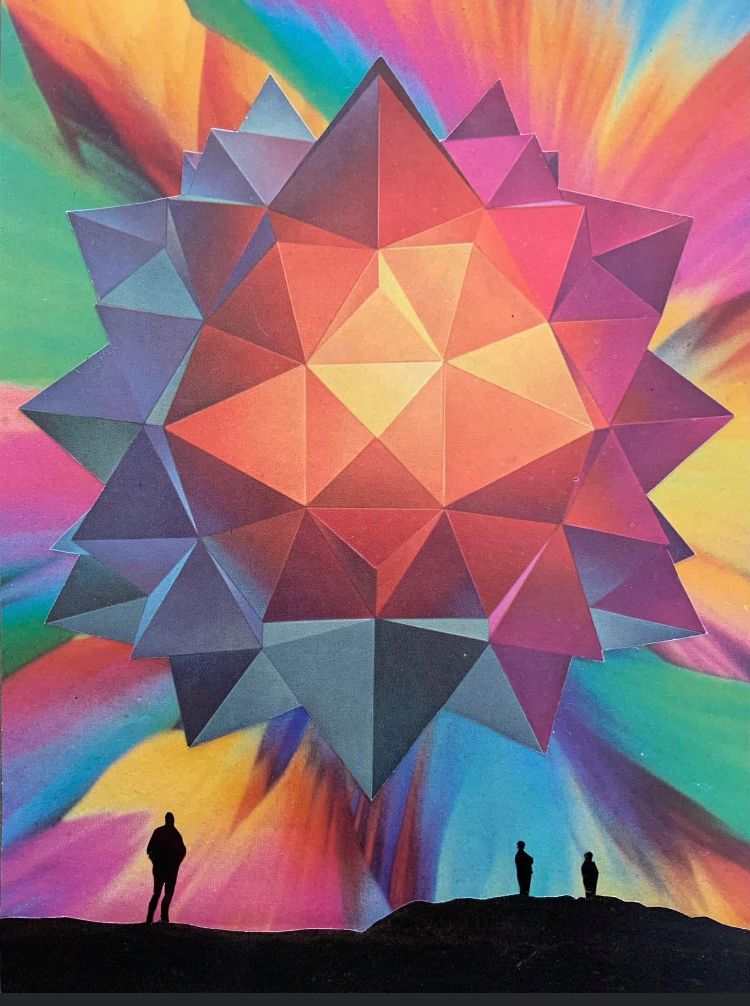 Artwork by Amanda Morley for her 2022 wall calendar 
It's almost December already? December is for Deadlines since I have a lot of them. One of the things I appreciate about my post-secondary studies is how it has encouraged me to address my relationship with this thing called time and how there's no going back. You missed you missed. Time just marches forward. At least it does when you put it on a timer, on a set of gears perfectly aligned and designed for repetition. What if time was fluid? Can us clock-ticking calendar-bound beings even conceive of this kind of reality? As I reach out in my psyche to all the beings of this earth, beyond my place and even beyond my time I see this reality so clearly. But here I am in a "place" called Canada and a "time" called 2021. The sky is cloudy and things are covered in a light dust of sugar white snow. I have these songs I thought up and captured roughly that have been cycling through my psyche as the music in the background of all these musing of the mind. They form together into collections based on the times and places they emerged. I love recording and releasing them because it concretizes their significance as a record of my journey. They exist as a reminder for me so I never forget where I've been when I get to where I'm going. It requires a lot of Hope and Love. It requires Honesty and Pride. It requires a deep Compassion for myself and all living beings. 
The collection I've compiled so far in this marker of time November 28, 2021 is as follows:
1. Blood Moves In A Spiral (3:44)
2. This Love (3:34)
3. Let Yourself Come Down (4:48)
4. Emptiness Comes (2:49)
5. Five and Nine (4:19)
6. FFFA (fight, flight, freeze, at ease) (3:12)
7. Deep Blue (remix) (?)
(Putting time stamps with that track list is a good reminder that I soon have to register these songs with Socan.) I have demo recordings of all these songs which is why they've made it to this short-list stage. During the last two months I have been showing the demo to some close friends and colleagues to get some initial reactions and feedback on the songs. I've gotten some good insights from people who's own work I admire. Others who have studied the craft of music and can hear and communicate back errors in the enjoyment of it's listening.
Here is some of it:
"I really like the songs. Super diverse vibes."
"My first impression was that a lot of the grooves start and keep rolling throughout the whole songs without pausing or transitioning between the different parts too much. (our drummer friend) is always the best at knowing when to drop the beat out. Half a bar, or some hi hats, or even just one snare gone can make such a huge difference. It helps the song breathe and lets you know you're heading to a new part."
"Might also be cool to replace some of the midi although I saw some videos of Billie Eilish's brother and he makes so much of her music with just the stock logic instruments. It's so annoying cause it always sounded so corny when I tried but they make it work so well, I think by dialing in each sound just right and meticulously arranging the parts to come in and out to build dynamics."
"MG these songs are amazing!!! 
Let yourself be free has awesome vocal harmonies 
This Love is SO Funky. I saw (our trumpeter friend) playing trumpet 
Five and Nine is MY FAVORITE. Fuck ya love that 
And the first two tracks were really really great too. This album is Awesome!"
Verbal feedback from others also included comments about the love of harmonies and grooviness and how the sound would be enhanced with more live instruments (a lot of it being midi stand-ins). I had an in-person listening session with my high school band teacher who leans on Jazz and live music. He said he could hear it was Pop oriented but with a bit more variety and interest. Basically more repetitive than jazz but less repetitive than pop.  The song Blood Moves In A Spiral was also thoroughly vetted but my Songwriting II classmates and instructor so i gained a lot from workshopping that song over a four month period. 
So all in all some really great input from a variety of folks. 
My first next step is to hear back from my drummer friend to whom I emailed the demo. I would like to focus on and track the drums first. He may be able to record himself but we will do at least one session together to get a feel for it and maybe he can add or subtract stuff from his own studio after. Musicians having their own set up to record their own instrument is kind of a sweet deal for everyone which is why I did that for myself as well. But there are factors like quality of room treatment and quality of microphones that plays into it. It looks like we should have access to some good gear and rooms through our musical circle though and I think it will all just be an fun exciting experiment of sound. 
December is for deadlines and drums. 
That's all for now.
See you after exams!
MG